We consider project development as one of the most crucial steps in Renewable Energy investments as it defines the project characteristics. We place special emphasis on the selection and securing of the land, on the size of the project and on the SPV (Special Purpose Vehicle) structure. We ensure success of our clients' projects through experts' involvement and close monitoring.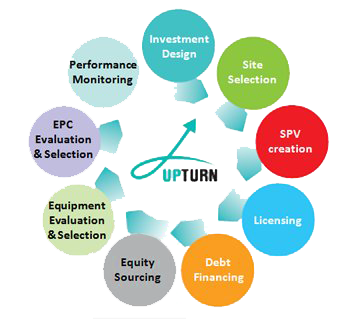 Having the expertise in structuring bankable projects and a good understanding of the requirements set by international financial institutions, we ensure that the projects we develop receive competitive financing terms.
We undertake the full project development responsibility and work closely with our clients until their parks are built and set in operation. More specifically:
We commence with Investment Planning. The investor's profile and requirements are analyzed and based on that, the investment characteristics are set. The appropriate investment model is selected which guides all the steps of the project development.
The legal form of the SPV is defined based on tax and legal aspects that best suit the investor's profile. The SPV is established, responsibilities and all other requirements are defined and the company is set in operation.
Land evaluation, selection and securing involves searching for the appropriate land and evaluating technical and legal parameters. The land evaluation involves checking all the requirements set under the licensing process, before finalizing our selection. We secure the use of land for the investment period and ensure that the cost is within the budget specifications.
At this point, the licensing process commences. Depending on the type and size of the project, the appropriate studies and plans are developed and are filed for approval. We conduct close follow-up, communicating with the appropriate public authorities and ensuring that the process concludes successfully in a reasonable timeframe.
The project now is ready for financing!