Upturn services customers that are seeking to acquire an investment, looking for co-investors or are interested in participating in an investment scheme in the renewable energy sector. We broker and source equity and debt capital, as well as structure project mergers and acquisitions. We also bring together - under one investment scheme - parties with different contribution potential, risk appetite and return expectations.
Our clear insight of the market, places us in a strong position to assist our clients in evaluating alternative investment schemes and defining the characteristics of their participation. Each party's objectives, risk appetite and expected returns are considered in the proposed scheme. Structuring projects in a way that provides flexible alternatives of entrance and exit at different time intervals is highly valued by our customers. We work with them to develop policies for all parties involved.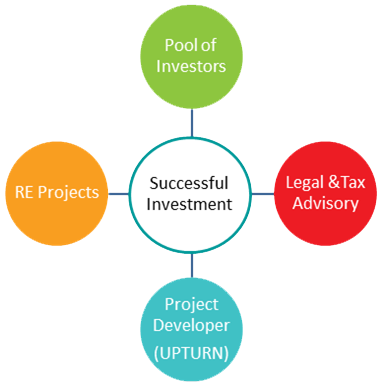 With access to a large base of Renewable Energy projects at different maturity levels in Greece and in the Balkans, we give the investor a clear head-start with his investment. We prepare and provide investor-focused project documentation, outlining the framework of participation and setting a solid basis of co-operation right from the start.
Our access to a large base of local and international investors gives the project sponsors the advantage of reaching a wide audience of interested parties, thus opening up their options in realizing their plans within a reasonable timeframe.
When structuring projects, the appropriate legal entity is set-up and the operational model is designed, based on the participants' objectives and means of participation. Tax considerations are taken into account. Our legal, technical and tax advisors all contribute to ensure that the investment scheme created will be robust and profitable.
Furthermore, we evaluate financing alternatives and assist in realization according to project characteristics. We aim at maximizing returns and minimizing cost of ownership, as outlined in the Financing Section.
In all cases, we facilitate in the negotiations and support in the clarification of issues. Upturn's active involvement throughout the project structuring helps clarify and overcome issues that arise and provides a high possibility for closure.