Upturn partners with you to develop your business, identify new opportunities and establish methods that result in sustainable growth, performance optimization and cost reduction.
We use established tools and methodologies and utilize best practices, operational models and metrics. We bring along our own experience from both consulting and executive positions. We provide a network of associates that have done it before and have the know-how to customize solutions to your needs. Our clients appreciate the fact that we work closely with them, until the plan is put into action and the results are evident.
Our framework takes into account all aspects of the business.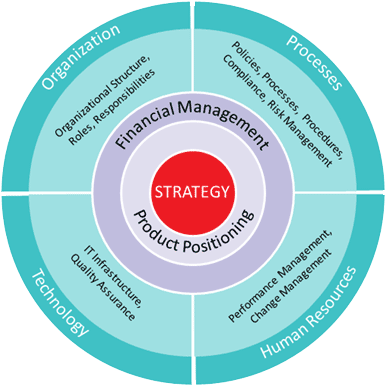 Depending on the business challenge, we focus on
Strategy – Whether you are embarking on a new business venture or running an established enterprise, a clearly defined and communicated strategy of what the organization is trying to achieve, is at the heart of success.
Product Positioning – Continuous evaluation of the competition, identifying the differentiating factors of your products and services, assessment of the effectiveness of the channels used and strong branding are essential components for business well-being and expansion.
Solid Financial Management - through financial planning, financial control, identification and maintenance of financial assets, the recognition and management of risks, is vital to achieving the business goals and positive cash flows.
Through the Organization, the structure of the enterprise is imposed. The roles and allocation of responsibilities for functions and processes are defined and the foundation of the operating procedures and the control points are set.
Processes define how the enterprise carries out its work. Business processes and underlying IT processes must be engineered so that they support the business strategy and are implemented efficiently and effectively.
Human Resources management is the most critical success factor. Empowered employees who have a good understanding of the business strategy and are given the authority to make decisions, deliver results that enhance the value of the enterprise.
Technology supports the business strategy, people and processes. Hardware, software, telecommunications, and other technologies are to be thought of as business enablers. Proper integration of technology can improve efficiency and effectiveness. Intelligent use of available data can guide effective decisions and even provide a competitive advantage.
At Upturn, our challenge is to bring the right balance of these elements and contribute to the success of ventures and projects, thus bring sustainable value to the organization.